Welcome to Fantasy Cakes, your local Round Rock business for the past 20 years. We are providing enchanting & delicious cake creations. Now also available: Vegan cake flavors chocolate and yellow
In more than 20 years we established a reputation for moist delicious cakes that come with unique designs and thoughtful compositions matching your event theme.
The cakes are baked at our shop and only certain flavors are offered to ensure a consistent quality. Compared to some chains who receive their cakes frozen shipped and from a main factory we bake fresh which sometimes limits our options what we can do for our clients. We only have so many bake pans in each size and so many trays for our oven so sometimes the devil is in the detail. Please see our
FAQs
to see how to best order with us and how much notice we need.
Just like we bake directly at our shop we whip up the butter cream fresh and just like the flavors for cakes we limited what we offer for frosting choices to ensure we achieve consistent quality.
Now, hopefully you find something you like in our 1000+ pictures of creations we have done before. We equally appreciate if you send us the design you are looking for and whether we can replicate that.
We look forward to hear from you.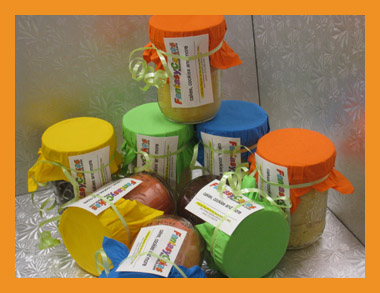 Do you have someone visiting for Thanksgiving or Christmas? And did you wish they could take a little piece of heaven home with them when they leave?
Try our cakes in jar as a little token of appreciation this year. The cake is baked fresh with the same delicious recipe like our famous specialty cakes.
click here for more info
We provide custom designs cakes for all occasions.
Birthday cakes, Grooms cakes, Bridal showers or baby showers – you name it